So my fiance, Bruce, and I have moved out to Lemoore, CA. The road trip from Massachusetts was pretty brutal, but we are here in an adorable two bedroom apartment. I have my own sewing room!
So I made Bruce a Christmas sweater. I figured the boyfriend sweater curse wouldn't ap

ply to a fiance...Right??

I have never knitted anything so big. The finished bust measurements of the sweaters I make for myself are like 34". A 46.5" sweater is huge. And it took a long time. But I think it came out nicely.
I used KnitPicks Capra DK weight yarn in Hunter. It's 85% merino, 15% cashmere. I knew Bruce would love a cashmere sweater and the yarn was on sale so I scooped it up. The yarn very soft and comfortable but the sweater started to fuzz after about a week of wear, which is disappointing.
Total Cost: $67.08
I made this while Bruce was across the country at a naval training base. I didn't know any of his measurements and I couldn't actually take any of his measurements, which made this a difficult project. I did have one of his RTW sweaters to use as a reference, though.
This sweater has a 46.5" chest. After taking his chest measurement (38.5") and referencing other men's sweater patterns, I apparently should have made it like 4 inches smaller. But I don't think this sweater looks huge. It's definitely on the looser side, but I wouldn't say it's too big. And he loves it and says it fits perfectly, which is what matters most.
I copied the seed stitch pattern from a pattern available for free online but I made a lot of changes to the fit and construction of the sweater. I decided to make a set-in sleeves instead of raglan sleeves because I didn't like the look of the raglan sleeves. And I changed the neckline width and depth, the body length, and the sleeve length. As in, I drafted a whole new pattern. All the details are on my Ravelry Project Page.
I am not 100% happy with this sweater. The neckline is too wide and the sleeves could be 2" shorter. But I think it came out pretty well considering I had no idea what size to make.
Don't you love the tag? I got it from KnitPicks.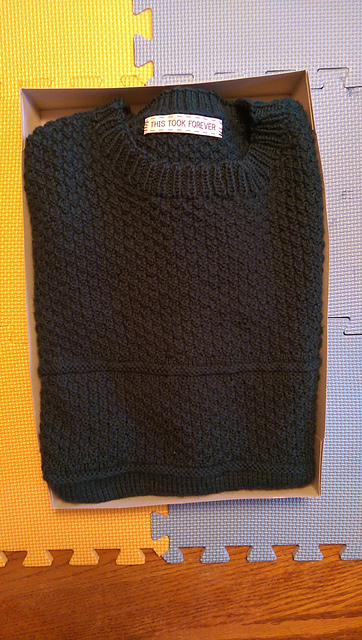 Sox enjoyed this sweater as well: