I have been nominated for the Liebster Award by Jacq C of A Good Talking To... and Trisha of Made By Trisha!
I am so excited to be nominated for an award! I was bragging to my friends all weekend and they didn't really get it. It feels good to know someone likes me!
To quote Jacq C: "The Liebster Award is awarded to blogs with less than 200 readers to bring them into the limelight and hopefully increase their readership."
Post 11 facts about yourself

Answer the 11 questions posed by your nominator

Nominate up to 5 other blogs and ask them 11 questions of your own
*fair warming: it is possible that these people may have more than 200 followers and may have received this award already
I Heart Fabric
- Erin seems like such a sweetheart, and is a wicked supportive blog follower. She comments on so many of my posts and I love it. And she has FABULOUS taste. Could this dress be any cuter?
Regina Gee's Place - This is one of the first sewing blogs I found when I started my own blog. Regina is also an incredibly supportive follower; I sort of feel like she's my blog mom. Not only does she sew adorable garments like this ruffle top, but she crochets, too!
Untangling Knots - Andi is such a talented knitter. She designs the CUTEST sweaters I have ever seen (available here on Ravelry). She is also multi-talented; in addition to designing beautiful knitting patterns, she crochets and sews.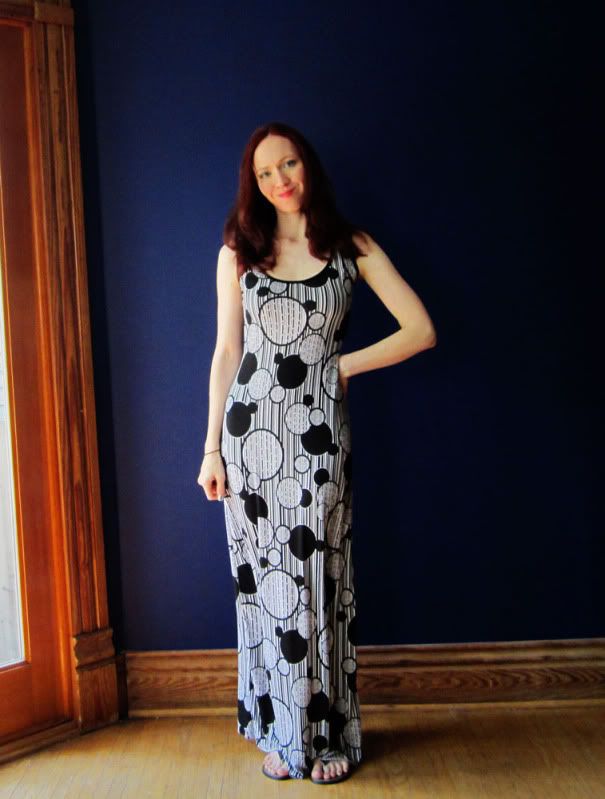 Green Apples - Jessica is such a talented seamstress. In addition to going to school (I think) and teaching piano, she finds the time to whip up gorgeous garments. She uses fabric and patterns that I wouldn't necessarily think to use and her clothing always comes out beautifully. That's what following sewing blogs is all about, right?
MP by Maude - Maude sews beautiful garments that fit her perfectly. I don't know how she does it. She has a unique perspective and I adore pretty much everything she has ever sewed.
My Questions for You Guys:
What other crafts do you do?
What is your favorite food?
How tall are you?
What is your best physical feature? How does that affect what sorts of garments you sew, knit, etc.?
Can you drive a stick shift?
What is your worst habit?
What are three words you would use to describe yourself?
Do you have any random or bizarre talents?
Would you ever go sky diving or bungee jumping? (Or have you ever been sky diving or bungee jumping?)
Who is your favorite fashion designer?
What is the best advice you ever got from another blog?
11 Facts About Me:
I went to snowboard boarding school during my freshman and sophomore years of high school in Waterville Valley, New Hampshire. I was never very good, but some of my friends have been very successful. My friend Chas Guldemond is probably going to be in the 2014 Winter Olympics, which is wicked exciting!
I learned how to crochet whilst at snowboard school, which is what sparked my interest in crocheting, knitting, and sewing.
I got bunion surgery when I was in high school. I have been trying to find a copy of an x-ray, but to no avail. So my lucky blog followers get to see a gross before and after picture of my gross feet instead. Please don't stop reading my blog.
I have played the guitar on and off for about ten years. I have a Fender Stratocaster that I adore.
I like to cook. I don't do it super often and I'm not really good at it or anything, but I like it.
I am a big football and baseball fan. I love the New England Patriots, the Boston Red Sox, and the Arizona Wildcats.
I was in a sorority in college - Delta Delta Delta. I was a member for all four years and I lived in the sorority house for two. It was amazing and I miss college pretty much constantly.
I have a minor in creative writing.
I am really good at climbing things. Trees, rocks, climbing walls, fences...It doesn't matter what it is, I can climb it. It's a pretty worthless talent.
I am always cold. Like really though.
I got Sox my senior year of college from a friend who needed to get rid of some kittens. And our birthdays are only a couple of days apart, which is pretty neat.
11 Questions from Jacq C:
You have enough money in your purse for one project - yarn or fabric?
I don't think I could choose. It depends what kind of mood I'm in. I will exclusively sew for a month or two and then exclusively knit for a month or two.
How did you learn to sew?
My mother taught me a little bit when I was younger. I also took a sewing class in high school. But I suppose I'm mostly self-taught.
What is your 'turning point' garment - the one that made you think you might actually be able to do this?
Probably my Teal Striped Dress. It has boning and a zipper and it ended up a million sizes too big and I had to put darts in it to make it fit, but I did it.
What is the most unusual material you have used in a garment?
I really haven't experimented with anything crazy yet, to be honest.
Where is the one place you have always wanted to visit and why?
Australia. I'm not totally sure why. Probably because it's hot. And Australians look like they party pretty hard.
Would your teenage self have imagined your life now and, if not, what would it have been like?
I don't know if teenage me would have imagined me living at home with my parents at 23 and going back to college...
If somebody asked your advice about learning a new craft what would you recommend?
Take it easy. Do something really easy for your first project, even if it isn't super cute. If you try to start out with something that is too hard you will just get frustrated and you'll never find out if you really like the craft.
What piece of equipment is on your Wish List and why?
I have pretty much everything I could ask for. So maybe a sewing machine that does automatic buttonholes. There's also a yarn ball winder at Jo-Ann Fabrics that I've got my eye on.
Do you have the telly or radio on in the background when you sew and, if you do, what is on?
I usually get so sucked into sewing that I forget to turn on any background noise. When I was sewing in my mom's dining room I could hear the TV from the family room, so that was kind of like watching TV.
What is your favourite snack when you're crafting?
I don't eat when I craft. But I drink a lot of unsweetened iced tea. Like a lot.
Do you enjoy making things for yourself or others and why?
I enjoy making things for myself because I'm wicked selfish. It takes so long to make something so by the time it's done I'm emotionally attached to it and I don't want to give it away.