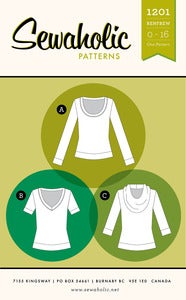 I made my first
Renfew top
! It was a fabulous experience. It fits great and was very simple. I made View C. I don't normally go for cowl necks but since my fabric was a bit mannish, I thought the cowl would add a nice feminine touch. I used an oatmeal/navy striped polyester/rayon "mohair blend" jersey from the Red Tag section at Jo-Ann Fabrics.
Total Cost (after coupons, discounts, etc.):
$7.40
I had to omit the sleeve cuffs because I serged the whole top together before I realized I would never be able to serge the cuffs to the sleeves. So I used my twin needle to hem them instead.
Look at that stripe matching. I impress myself.
This is my first project in a long line of projects featuring sleeves. It is impossible to find cute clothes with sleeves; I guess they just don't make them. Look out world: Alison is preparing for winter!